LCMD Association Benefits:
The Lutheran Church Michigan District Association is one of the 10 largest Associations with Blue Cross Blue Shield of Michigan and Blue Care Network. The LCMD Association provides medical protection to over 80% of the LCMS workers in the state of Michigan. Lutheran Benefits Group is an authorized independent agent who administers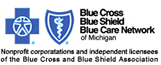 the LCMD Association through BCBSM and BCN. We are proud to work with the Blues, Michigan's most trusted name in health care. The participating member churches, schools and institutions have the following benefits:
---
Some of the benefits that each member enjoys:
Plan Choices -- This allows your group to choose the plan(s) that best fit your church, school or institution's individual situation. Not only are you able to offer your employees a wider range of products, but this also allows you to customize your plan(s) around your budgetary needs.
Selection Choices -- Offers your employees the greatest number of doctors, hospitals and health care professionals with worldwide coverage. Being insured with BCBSM and BCN you are receiving the highest possible provider savings in the state.
Death of an Employee Benefit -- Coverage is available for the surviving spouse and eligible dependents until they no longer qualify for dependent status or until the plan is terminated, whichever comes first.
Retiree Benefits -- Retirees and spouses are eligible to choose from different retirement supplements with all available benefits such as prescription drug coverage, dental and vision care.
Abortion Rider -- BCBSM and BCN created an abortion rider for the LCMD Association that excludes benefits for any medical services specifically intended to terminate a pregnancy. However, treatment for complications arising from a pregnancy making it necessary to save the mother will still be covered.
Express Service -- Our staff serves as your Human Resources Department, changes, additions and deletions are quickly processed for your group(s) with our direct on-line access to BCBSM and BCN. Because of this service, questions and problems are answered for you or your employees in a timely manner. Our knowledgeable and enthusiastic staff wants to assist you.
A Third Party Administered COBRA Program* -- Available at no cost to churches, schools, and institutions who would like this service or are required to comply under the COBRA law (the Consolidated Omnibus Budget Reconciliation Act). COBRA accounts are set-up and managed for those employees that need to extend coverage after employment.
A Section 125/Cafeteria Plan* --For groups that are eligible, this allows your employees to pay for health care and dependent care expenses and/or premiums with pre-tax dollars. For this benefit, Lutheran Benefit Group covers the set-up cost.
Employer Buyout Document Benefit* -- Available at no cost to churches, schools and institutions who choose to offer compensation in lieu of health benefits. This legal document is IRS compliant to provide a buyout to employees.
Supporter -- Lutheran Benefits Group is a generous supporter of our Lutheran Institutions with contributions to conferences and events of the Michigan District and English District.

* These services are available to those churches, schools and institutions that wish to participate.
If you would like more information regarding the benefits of our association, feel free to email us at Lutheran Benefits Group. Lutheran Benefits Group is an authorized independent agent of BCBSM and BCN.